Why has Chicago
grown so rapidly? Location, Location, Location. The map below shows water way links in the United States. Chicago is near the south end of Lake Michigan.
The Great Lakes provide a great water way to transport people and cargo around the Lakes and down the St Lawrence River to the Atlantic Ocean. This was important to the Native Americans and French, and it is important today.
And the Great Lakes were only a short portage to the DesPlaines River connecting to the Illinois River and then the Missississipi. So a very large portion of North America was connected by water, with Chicago in the central Hub.
Lake Michigan and the Great Lakes also form a very large barrier. All the trails and later roads and railroads north of the south end of Lake Michigan had to move to the south to get around Lake Michigan.
All Roads Lead to Chicago - Or at Least a Lot of Them do
A Busy Crossroads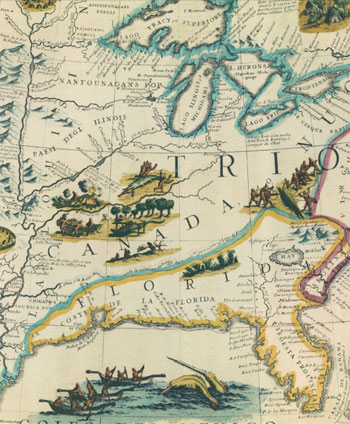 Chicago's role as a continental crossroads came from its location linking two great navigable water systems. To the east, the waters of the Great Lakes flowed out the St. Lawrence River to the Atlantic Ocean; to the west and south, the Illinois River flowed into the Mississippi River and the Gulf of Mexico. Native Americans and early European explorers understood this, as the 17th-century map shows. Connection between the two water systems was initially made by a short and easy portage over land from the South Branch of the Chicago River to the Des Plaines River. In 1848, the new Illinois and Michigan Canal provided an all-water connection between the Chicago and the Illinois rivers, solidifying Chicago's strategic position.